Complete delivery and installation for clean rooms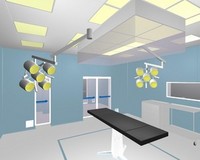 Our firm has a long-time experience in complex deliveries of the so-called "Clean Rooms", which are installed in the places where the customer needs to arrange for adjustable cleanliness of air. (Clean room – a defined room where the concentration of particles in the uplift is regulated so as to comply with the required purity class for particles in the uplift). In particular, it concerns the customers in the areas of sanitary facilities, pharmaceutical, chemical and foodstuff industries.
In the realisation of these exacting rooms, we guarantee to our customers a problem-free technical preparation of the system as well as its proper installation. After completing the installation, we commission the equipment and secure the required faultless functioning of the built-in room.
Description of a standard built-in Clean Room of the system PULSKLIMA: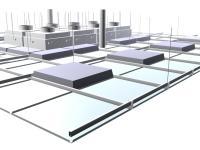 The built-in Clean Room consists of wall, soffit, floor and air handling systems. The partitions of the built-in system consist of liner and wall panels of varied thickness and length according to the requirement on the headroom. The panels are embedded in a bottom section covered by a fillet formed in the floor stepping layer. At the soffit and in vertical corners there are mounted metallic fillets. The orifices in the wall system are filled with windows or doors. The windows are in the execution PHARMA and they are made to measure, in compliance with investor's requirements. The doors in tight execution, either sliding or revolving ones, again as per the requirement of the investor. Tight cassette soffit with hidden grid contains integrated lighting fixtures and input elements of AIR HANDLING SYSTEM with HEPA filters. In case of operating rooms, there are laminar fields which provide for the supply of air above the operating tables. For Clean Rooms there are supplied special electrostatically conductive or antistatic coated floors with smooth anti-skid surface. The air handling system is designed and supplied to measure in accordance with required parameters of built-in Clean Rooms.
Complete delivery and installation for clean rooms
---
---
---